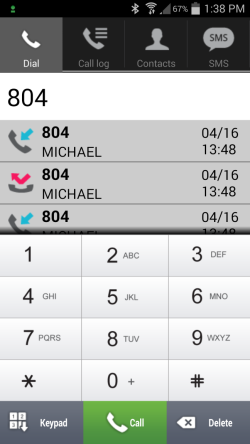 The iPECS communicator extends the power of your desk phone and unified communications to existing mobile devices and allows cost free communication from any location (office, home, hotspots) by using existing WiFi networks to connect to your iPECS network simply and cost effectively.
The reduction in minutes allow the mobile users to use less minutes and reduce their subscription costs by shifting cellular minutes to Wi-Fi minutes
The iPECS Communicator is the Enterprise SIP Mobile Client designed to maximize productivity and reduce cost by shifting existing calls normally placed on cellular network to free Wi-Fi or WLAN.
Integrated iPECS features
Easy and flexible calls with office desktop phones by integrating with the iPECS platform
Make, Answer, Hold and Transfer Calls
Do Not Answer (Do Not Disturb) and call pick up supported
Select how the call will be placed: over the mobile network or as a SIP call over WiFi
Call Hold, Call retrieve and Music on Hold support
Flexible conference call facility
Internal short message service
Phone book management
Add or modify contact number by searching the phone directory that is registered on the
Phone or by importing phone's contact number list
Search contacts by entering the first letter(s) of a contact name
Caller ID look up
Supported Operating Systems
Android
Android 2.3 or higher
CPU: 1Ghz or higher
Resolution : 480 * 800
Available from the Google Play Store
Apple iPhone
iOS 4.0 or higher
Available on the App Store
NOTE: iPECS communicator requires at least iPECS OS Version 5.6 and will not work on iPECS call servers running a lower version operating system. A system unlock code is required.