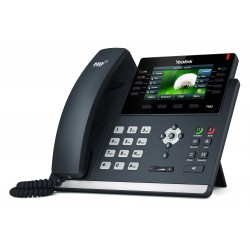 The SIP-T46S IP phone is the ultimate communications tool for busy executives and professionals. In addition to offering better overall performance than the T46G, this device has a faster interface with a rich, high-resolution TFT colour display. Built with Yealink Optima HD technology and wideband codec of Opus, this device enables crystal clear communications. The SIP-T46S is also built with Gigabit Ethernet technology, for rapid call handling and use with accessories like a Bluetooth USB Dongle and a Wi-Fi USB Dongle. The new T4S series offers the same elegant appearance of the T4 line, but with improvements for greater interoperability and collaboration.
Yealink SIP-T46S IP Phone
Yealink T46S with Opus support brings the same elegant look and feel of the previous T4 Series models, but with the added bonus of enhanced performance at no added cost. With key upgrades such as Opus support and enhanced speaker performance, the new T4S series are a powerful work tool.
Yealink SIP-T46S IP Phone Overview
The T4S Series brings power to the table with the popular Opus HD audio codec that is an advantage in the carrier/ITSP market. The T4S Series are future proof with higher hardware support that brings the latest hardware components to allow the phone to support future firmware generations. That way as Yealink continues to add more powerful features to the phone's firmware, you'll be able to keep up, worry free. The firmware for the T4S series allows for a unified firmware across all models (T41S, T42S, T46S, T48S) for easier and more convenient management and provisioning,
In addition, the T4S brings a faster user interface with high performance and a faster response rate. The T4S Series has an improved speakerphone and it is also hearing aid compatible (HAC) so that a person with hearing loss can hear more clearly.
The T4S Series brings major improvements at the same price of the existing T4 Series, that's a win-win.
Yealink SIP-T46S IP Phone Features and Specifications
4.3-inch 480 x 272-pixel color touch screen
USB2.0
Opus
Up to 16 SIP accounts
Paperless label design
Headset and EHS support
Wi-Fi via WF40
Bluetooth via BT40
USB recording
Support for expansion modules
Stand with two adjustable angles
Wall-mountable